Gunners and Spurs party on in Fallujah
OLD BAG: This is an archive story from Issue 72 - 15 Nov 2004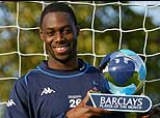 King: Picking up a comedy award
Black Watch trooper with Iraqi boy remembering Robinson's botched clearance
Geri: Must stay at least 100 yards away from
Share the "Truth":

Twitter
Digg
StumbleUpon
del.icio.us
Facebook
Web Search:
North London giants set to bring down the houses
The brand new comedy duo Gunners & Spurs are planning on a moral boosting performance for the brave British and American troops fighting the War Against Terror in Iraq's number one party town, Fallujah.
Hilarious Belloq
The hilarious double act's sell out sensation in North London's White Hart Lane had the audience rolling in the aisles as the terrific twosome shared nine of "The funniest goals ever seen." According to the London Evening Standard.
The accolades for those diamonds of defensive disorder were enough to persuade the Ministry of Defense's man in charge of Strategic Light Entertainment, Lieutenant Colonel E. J. 'Lovely Boy' Cockgroupier, that the whole act should be shipped over to Fallujah and give a one off performance for our sterling squaddies.
Fuzzy wuzzys
The north London double act will top the bill at the variety show "Big Top At Fallujah" hosted by Stan Baldwin and featuring the eclectic talents of Jim Davidson and Geri Halliwell. The show will be broadcast live on Sky One.
"Our brave Jocks of the Black Watch and the GI Joe's will get a huge laugh out from the hi-jinks of such geniuses as comedy greats 'Perilous' Pascal Cygan and 'Prankster' Paul Robinson. Not forgetting , of course, the comic talent of Ledley 'The Burger' King." said Cockgroupier. "It will take their minds off the constant threat of suicide bombs of and dead fuzzy wuzzys falling out of the windows what what."
The show must go on
Initially the authorities were concerned about setting the stage (roughly the size of a football pitch) for such a lavish production in a war torn city such as Fallujah but The Onion Bag's war corespondent Whipus Thymes informs us that the Americans have the situation under control. "They're going to clear away another hospital. You know, boom boom crumple crumple squash squash. That should do the trick."

Twitter:
Tweet this story
|
Follow the Onion Bag
|
Follow Duffman
Copyright © 2003 - 2022 The Onion Bag