It's Harry Kidnap
OLD BAG: This is an archive story from Issue 74 - 29 Nov 2004
Harry
Harry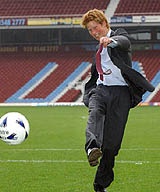 Harry
Share the "Truth":

Twitter
Digg
StumbleUpon
del.icio.us
Facebook
Web Search:
Ex-manager moved for own safety
Following newspaper headlines such as Plot 'to seize Harry in Bar' and Harry Out Of Control?, Harry Redknapp has been removed from Portsmouth for his own safety. The ex-Pompey manager is currently under SAS close protection in an undisclosed location near Wolverhampton after kidnap threats from Argentinian criminals.
Harry Hill
Portsmouth was the departure point for the Royal Navy during the glorious 1982 Falklands Conflict and this route to the South Atlantic leading on to Buenos Airies is now popular among the Argentinian criminal fraternity involvoled in the lucrative trade of player smuggling. Authorities are concerned that rumours of the Harry kidnap plot indicate that gangs are now planning on expanding their activities to include manager smuggling as well.
Harry Worth
Chief Inspector Cockgroupier of the Portsmouth Constabulary said in a statement, "We have to take these rumours seriously. When we heard someone somewhere wanted to kidnap Harry, we made sure we got to him first." When the Onion Bag's Larry Gak pushed the Inspector on suggestions that the Harry in question was in fact royal rebel and all-round tearaway Prince Harry and not Harry Redknapp, he was promptly arrested and banged up for treason.
Harry Monk
Redknapp had been making himself an easy target for kidnappers by his constant nightclubbing and generally being out of control, and the latest rumour is not the first time someone has attempted to abduct him. The cry, "Is Harry On The Boat?" is a familiar utterance in Portsmouth nightclubs whenever Redknapp pays a visit.
Last night, Argentinian criminals denied any interest in snatching the puff-faced Redknapp, even though the South American national side is in need of a new manager after the sacking of recent appointee Jose Peckerman because players couldn't stop laughing at his name.

Twitter:
Tweet this story
|
Follow the Onion Bag
|
Follow Castro
Copyright © 2003 - 2023 The Onion Bag