WMDs FOUND AT TURF MOOR
OLD BAG: This is an archive story from Issue 83 - 21 Feb 2005
WMD: Found at last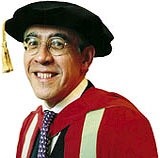 Straw: Pestle
Roe: Must stay at least 100 yards away from
Share the "Truth":

Twitter
Digg
StumbleUpon
del.icio.us
Facebook
Web Search:
Deadly weapons thrown on pitch in latest missile incident
In a worrying continuation of the ugly scenes witnessed during other FA Cup matches over the weekend, more missiles were thrown on the pitch at Turf Moor, the home of Burnley who were playing local rivals Blackburn Rovers.
Charter Renewal
The game, a turgid affair selected by nervous BBC bosses keen to appeal to the masses in the run-up to the Corporation's charter renewal, was marred midway through the first half when the cameras caught a missile landing on the pitch next to the Burnley goalkeeper. Referee Mike Dean was alerted to the missile and handed it to the fourth official for inclusion in his report.
Straw Draw
At the game was Foreign Secretary and Blackburn fan Jack Straw, and he was quick to point out the weapon was one of those British forces had failed to find in Iraq: "Obviously we couldn't find them then because Saddam had already hid them all in Lancashire. Today's incident, though regrettable, justifies the Government's actions over the past few years. Now we'll introduce even more draconian measures to suppress people's freedom - after the election, of course.
Drifting Off Topic
These new measures were instantly put to the test when first a streaker with a tiny cock ran on to the pitch but the killjoy BBC refused to let viewers laugh at him on the grounds that it would only encourage more of the same. The streaker was quickly executed on the spot.
Later, a pissed-up Burnely fan fancied having a pop at Robbie Savage and confronted the lying Taff, only to be chased around by the police and finally manhandled to the ground, though not before he'd comically knocked a copper's hat off. Bizarrely, the BBC chose to show most of this incident, excising only the thorough pasting the fan received at the hands of the local constabulary.
Get 'Em Out
We asked famous rugby streaker Erika Roe about her Weapons of Mass Destruction but she said that happened over 20 years ago now and they're all old and flabby.

Twitter:
Tweet this story
|
Follow the Onion Bag
|
Follow Castro
Copyright © 2003 - 2023 The Onion Bag