Gerrard: My Blue Heaven
OLD BAG: This is an archive story from Issue 84 - 28 Feb 2005
Gerrard: Surely some mistake...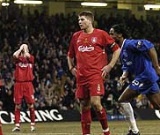 ... thats more like it.
Boris: Whats all the broo haha?
Share the "Truth":

Twitter
Digg
StumbleUpon
del.icio.us
Facebook
Web Search:
From our alternative reality correspondent
Chelsea midfielder Steven Gerrard took a sip of Orange juice while stretching out on the terrace adjoining his west London luxury apartment overlooking the River Thames. His boss Jose Mourinho had given him and the rest of his Chelsea team mates the day of after yesterdays thrilling Carling Cup Final victory in Cardiff's Millennium Stadium.
"It was a close call." He told The Onion Bag reporter Larry Gak through his flat's intercom. "But I was confident we'd get there."
Loop
Gerrard was reflecting on the hair raising and controversial 3-2 victory over his old club Liverpool. With his new team trailing 1-0 over his old deep into the second half, his looping header, forced extra time and Chelsea went on to win a thrilling encounter. "It was a strange feeling to score such an important goal against the team I'd played for since I was a boy. But I'm a professional."
Boris
But Gerrard was not the only source of controversy during the match. Blues manager Jose Mourinho was sent from his dugout after taunting Liverpool supporters following Gerrards goal. Referee Steve Bennett felt is wise to dismiss the foreign coach rather than suffer the inevitable complaints of Liverpudlians, who as we know, are well known for a total absence of humour and feelings of mass self loathing.
"I never saw the incident." Recalled Gerrard "But Boris, who lives next door but one to me, watched it on the tele and he couldn't see what the fuss was all about."
Dynamo
The England midfield dynamo won plaudits from Liverpool manager Rafa Benitez for not celebrating the goal as a mark of respect for his old club. "The funny thing is," he said, with a wry grin. "At the time I scored I imagined for a second how I would feel if I was still a Liverpool player and I'd just scored an own goal. God what a nightmare."
Then he woke up... screaming.

Twitter:
Tweet this story
|
Follow the Onion Bag
|
Follow Duffman
Copyright © 2003 - 2023 The Onion Bag