Joe Cole: I'll be England's patsy
OLD BAG: This is an archive story from Issue 88 - 29 Mar 2005
Becks: Glory days
Cole: Pointing the way to...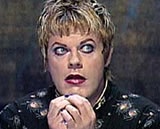 ...Azerbaijan
Share the "Truth":

Twitter
Digg
StumbleUpon
del.icio.us
Facebook
Web Search:
Left-winger ready to be scapegoat for 2006 World Cup
England's answer to the perennial left wing problem, Chelsea's Joe Cole, has admitted he relishes the opportunity to be the fall guy for his country when they suffer their inevitable acrimonious defeat in next summer's World Cup in Germany.
Red tape
The role of official England scapegoat can have a tremendous impact on a player's career – in France 98 David Beckham's already impressive fame went through the roof after he was sent off against Argentina. Numerous sponsorship deals and eventually the England captaincy followed that incident. Cole hasn't set his sights that high – but is just happy to be an important part of the team.
Blame game
"I'm not looking for personal glory – if that comes, great" an excited Cole told the Onion Bag, "I'm proud to be playing an important role for my national team, knowing that when things go tits up they can rely on me to take the blame."
Head coach, Sven Goran Eriksson has been troubled finding a suitable figure for the press and public to point the finger of blame. "It's no secret that this has been a problem area for us. I've tried many players in this position but now I think we have the right man for the job."
Frenzy
Cole shone in England's demolition of a quite frankly hopeless Northern Ireland side and should be ready to repeat his role against Azerbaijan this coming Wednesday. This coupled with a string of impressive results against some pretty ropey opposition between now and June 2006 should whip public expectation into an over-optimistic frenzy.
FA Chief Brian Barwick was effusive with his praise for Eriksson and Cole, "what? Oh yeah, Joe Cole. Yeah great job he's doing for the team and all that. Erm, just write that I said something nice about him – you know valuable asset to the team and all that bollocks. Fancy a McDonald's?" No thanks Brian.

Twitter:
Tweet this story
|
Follow the Onion Bag
|
Follow Sp3ktor
Copyright © 2003 - 2023 The Onion Bag