Forest Capture Trophy
OLD BAG: This is an archive story from Issue 90 - 11 Apr 2005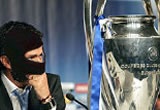 Missing trophy with captor
City Ground: Besieged
Mawhinney: Campaign trail
Share the "Truth":

Twitter
Digg
StumbleUpon
del.icio.us
Facebook
European Cup kidnapped by desperate fans
This is the voice of the Nottingham Forest Popular Front. We deplore and condemn the current plight of our beloved football club and refuse to accept the inevitability of relegation. As an act of vengeance against the football world for the series humiliating defeats, terrible managers and endless references to Brian Clough we are holding the European Champions League trophy in custody until a ransom of 10 Championship Points... actually you'd better make that 20, is delivered by helicopter to the gates of the City Ground within 48 hours. Failure to comply with our demands will result in the execution of the trophy which will be streamed live on www.crap_forest.blogspot.com. Message ends.
No rescue
That was the chilling statement released last night by a group of fans, thought to be the armed wing, of the Nottingham Forest Independent Supporters Club, who shortly after Forest's humiliating 3-0 home defeat to Plymouth Argyle on Saturday captured the Champions League to hold for ransom. The fanatics have barricaded themselves into the City Ground threatening to wipe out the trophy before the deadline if any attempt to rescue the trophy is made.
Clough reference
Attempts at negotiation have so far failed, offers of an alternative trophy in exchange have been rejected by the desperate fans. Forest Legend Trevor Francis (himself a European Cup Winner under Brian Clough) is the Club's current Official Hostage Negotiator: "We offered them the LDV Vans Trophy instead but they said no. Nothing I say or do seems to help." He said with refreshing honesty.
Party political
Meanwhile, at the Football League HQ, Chief Executive, member of parliament and former cabinet minister Brian Mawhinney was in no mood to into give into the Forest Fans demands. "I am a Tory(although we don't like to be called that anymore)." He said while shaking the hand of The Onion Bag's intrepid reporter Larry Gak, "We Tories have never ever dealt with terrorists ever. Let them do their worst. I say this to you now and with total conviction: Vote Conservative!"
Who wouldn't?
No one knows how the Champions League Trophy was smuggled into the stadium much less how it was stolen in the first place. Although it is thought that it was taken out of it's box by a UEFA official so he could rub it with his nob. UEFA confirm that the official in question will be disciplined as soon as he washes his hands.

Twitter:
Tweet this story
|
Follow the Onion Bag
|
Follow Duffman
Copyright © 2003 - 2022 The Onion Bag