Baggies Trousered
OLD BAG: This is an archive story from Issue 95 - 16 May 2005
Ford: Proud sponsors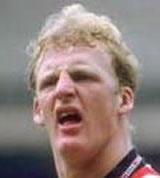 Dowie: Packing bags
Hughes: Packing fudge
Share the "Truth":

Twitter
Digg
StumbleUpon
del.icio.us
Facebook
Ford Capri Survival Sunday round up
The football world said a big ta-ta to long time premiership lane-hoggers Southampton FC.
While Harry Redknapp pondered his tarnished reputation, West Brom manager Bryan Robson, who The Onion Bag has always supported throughout his troubles, took the Baggies from rock-bottom to Premiership safety in 90 minutes at the expense of Norwich, Palace and of course the Saints.
Former Baggies legend Lee Hughes, talking from the shower block of HMP Featherstone was bent over backwards with surprise at their success. "Bugger me!!" He said," No... not really." But by then it was too late.
Going Dowie
Palace boss Iain Dowie was full of praise for West Brom. "I look forward to pitting my wits against them as manager of whatever Premiership club I end up with next season."
Six of the best
Meanwhile, at Craven Cottage, a disconsolate Norwich were thrown out the door of the Premiership by a Fulham side decked out in Hawaiian shirts and flip-flops. "The stench of Ambre Solaire overpowered us", said motivational coach Delia Smith.
Kohler Dome
Also, England boss Sven Goran Eriksson is looking to include more Championship players to his Englend squad in addition to Peter Crouch and Andrew Johnson. "Is this the way to Kenilworth Road?" he asked.
Gary Megson was unavailable for comment.

Twitter:
Tweet this story
|
Follow the Onion Bag
Copyright © 2003 - 2023 The Onion Bag