Footballers' husbands
OLD BAG: This is an archive story from Issue 98 - 6 Jun 2005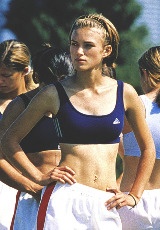 Knightley: Must stay at least 100 yards away from
Carney: Watch out for the olds
I say! No wonder they banned it
Share the "Truth":

Twitter
Digg
StumbleUpon
del.icio.us
Facebook
Web Search:
The men behind England's soccer heroines
The VIP section of the City of Manchester Stadium had never seen anything quite like it. While England's first ladies of football conceded a two goal lead to the foxy Finns only to snatch victory at the death in their opening match of the Women's Euro 2005 Championship, their husbands and boyfriends sat amongst the crowd, cheering on their sexy spouses all the way to the final whistle.
No names please
It was a nervy opening fixture and the men's main concern was on how to look after their women after the game. "Sometimes the girls like to go out after the match." said Gary, whose wife (which we cannot name for sexist reasons) plays in England's back four "Things can get a bit rowdy so I usually go back home and wait for her to come back. Sometimes in time for breakfast, sometimes dinner."
Black eyes
The high pressure world of semi-professional competition sometimes gets to the players and they often take it out on the ones they love. Paul (not his real name) has found himself regularly abused by his wife, another England squad member. "Sometimes she'd come home from a night out with her mates and I could smell Burberry aftershave on her. I'm pretty sure she's seeing men behind my back. Once, I asked her about it and she gave me a right slap."
Double top
Many of the husbands go out together on shopping trips to such glamorous outlets as George, Primark and Lidl. They also have a pub darts team that they play for. Mark is one of the organisers whose special lady plays in England's midfield. "Some of the lads turn up for the darts with black eyes. No one says anything. It's sort of a rule. People think its all Keira Knightley but actually a lot of the time, the girls can get pretty ugly."
Old men
Meanwhile, the main talking point is England's new wondergirl, 17 year old Karen Carney whose match winning goal in the dying seconds of yesterday's match has led to comparisons with male teenage sensation Wayne Rooney. Many of the men are worried that she'll fall in with the wrong guy. "Most of them are just gold diggers" says Mark. "And some are really old."

Twitter:
Tweet this story
|
Follow the Onion Bag
|
Follow Duffman
Copyright © 2003 - 2023 The Onion Bag