MOONSHINE UNITED
OLD BAG: This is an archive story from Issue 99 - 13 Jun 2005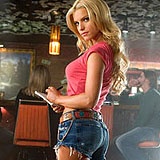 Simpson: Must stay at least 100 yards away from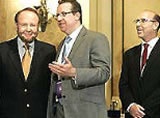 Glazers: "Dem Dukes!"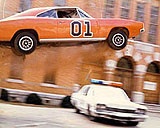 Hot Pursuit
Share the "Truth":

Twitter
Digg
StumbleUpon
del.icio.us
Facebook
Glazer 'boys' plan to run moonshine across county line
Bo and Luke Glazer, newly installed board members at Manchester United courtesy of their Uncle Malcolm, today calmed fans anxious about rumours of ticket price increases by announcing that they would generate additional revenue for the club by running moonshine over the county line.
Just The Good Ole' Boys
Smuggling homemade booze is legal and common practice in the US, indeed, it was how a young Malcolm Glazer made his fortune. Now his nephews plan to emulate their uncle by driving car loads of the deadly homebrew over the county line into Yorkshire. The Glazer boys hope to wean stuck-in-their-ways Yorkshiremen off the likes of Toby and Tetley bitter and on to their frankly poisonous concotion of paintstripper, sugar, and Budweiser.
Never Meanin' No Harm
But Yorkshire authorities have been quick to respond to the Glazers' intentions. Sheriff Roscoe Pppppppppp! Dodsworth is the law in the village of Biggadyke, the first village over the county line the boys will have to pass through. "Ger-ger-ger!" he gurgled, before adding, "Dem Glazer boys ain't gonna get far in my town, no sir-ree. I'll be in hot pursuit!" he said excitedly, before crashing his car for the umpteenth time. Dodsworth is not alone in his determination to stamp out the smuggling. Local mayor Jefferson "Boss" Boycott, impressively attired in an all-white suit, said, "Dem Glazers need to get a licence to drive through mah village. An' I can sell them one at a very competitive price."
Beats All You Never Saw
The Onion Bag's intrepid reporter Larry Gak met with the Glazer family and enquired as to how they planned to get their blindness-inducing drink through Boycott's village. "Well boy, we're gonna be using this here motor ve-hickle, which we call the General Lee. Faster than anything in this county or any other. An' if that fails, well, we've found that the charms of our sweet lil' ol' cousin, Daisy Glazer, always go a long way."
Been In Trouble With The Law Since The Day They Was Born
Daisy Glazer was then introduced to Gak, who swallowed hard, blushed, and stammered, "Why ma'am, it's a right honour to meet a young lady as mighty fine and purdy as you are."

Twitter:
Tweet this story
|
Follow the Onion Bag
|
Follow Castro
Copyright © 2003 - 2022 The Onion Bag