ARSENE'S AFRICAN CAMPAIGN
OLD BAG: This is an archive story from Issue 127 - 16 Jan 2006
Wenger: Ready for battle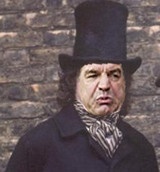 Big Sam: Hard times
Il Duce: Conqueror of Abyssinia
Share the "Truth":

Twitter
Digg
StumbleUpon
del.icio.us
Facebook
Gunners chief blasts resistance
Arsenal manager Arsene Wenger has called upon the European Union to invade Africa.
Wenger has become frustrated by his African players participation in the African Cup of Nations (the oldest international tournament in existence) which takes place each January every other year. His demands to have the competition moved to a more Euro-friendly time have been completely ignored by everyone except other European managers and journalists.
Rules of engagement
"The only way to deal with the problem is to invade and colonise Africa," Wenger told a group of sycophantic hacks all nodding their heads in agreement. "Then we can abolish their pointless competition."
G14, the group of the richest clubs in Europe, have endorsed The Wenger Plan and offered the EU assistance by using their many contacts to supply high grade weaponry and low grade drugs. "Just give us the word," a spokesman said "and we'll cut off their gas supply and flood the whole place with crack."
Dark Satanic Mill
Sam Allardyce shares Wenger's concerns. The Bolton boss has 53 Africans on his roster. They live in a condemned textile factory on the edge of Chorley. "It's the same story every two years," he said. "I pay them a good wage, much more than they'll ever get back home. I give them food and a place to stay and how do they repay me? By swanning off to Africa for some meaningless tournament. I don't know why I bother... well, actually I do, they're cheap and they have good strong backs."
Il Duce
AC Milan owner, media baron and Prime Minister of Italy Il Duce Silvio Berlusconi thinks Wenger's idea is a winner. "I can offer 200 legions of my bravest Roman warriors. They will bring down the savage hordes of the Dark Continent. It will be a new dawn for Africa. All will kneel before me and worship my glorious visage on every street corner. They will bask in the glare of my glistening pate. Veronica! Where is my chamois leather? I wish to polish myself."

Twitter:
Tweet this story
|
Follow the Onion Bag
|
Follow Duffman
Copyright © 2003 - 2023 The Onion Bag