Saha Regrets 'Anti-Fayed' rant
OLD BAG: This is an archive story from Issue 30 - 12 Jan 2004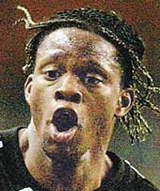 Saha: There is nothing he can do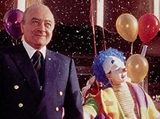 Fayed: None of it's true
Kilroy: Subjected to bilious rant
Share the "Truth":

Twitter
Digg
StumbleUpon
del.icio.us
Facebook
Web Search:
Now I know how Kilroy feels, says stroppy striker
In an exclusive interview with The Onion Bag Fulham forward Louis Saha he said could identify with Robert Kilroy Silk after his suspension from the BBC following an inflammatory article about Arabs in the Sunday Express.
French Fulham Forward Louis Saha said he was sorry for comments attributed to him about Mohamed Al Fayed owner of Fulham.
Al Fayed still owns the west London Chelsea wannabe even though it has been in the hands of Chechen Rebels since before the start of the season and the Harrods supremo was said to be furious about the comments aimed at him by Saha.
The striker told some French newspaper that he was "Sick", "Disgusted" and "appalled" at Fayed decision not to allow him to go to Manchester United. He also said that his champion move would have been good for Fulham.
Where Is Context Anyway?
But Saha told The Onion Bag that his comments were "taken out of context" and that the Gallic superstar wasn't talking about the proposed moved up north but was actually referring to a recent plane journey in an interview last April. "Me and zis journalist guy are in this caffe shop by ze Fulham Palace Road tube yes? So I tell zis guy about my return trip to Londres from Paris last Christmas. I was saying zat zey sat me next to zis kid yes? who was zick awl over my lap!! I was Dizgusted and appalled. So I complain to the nice Steward yes? but ze kids orfool paronts get ze strop and the next thing you know zhere is an air rage incident."
Too Many Comments
"I really wish I 'ad watched what I said." Continued Saha needlessly," 'Ow was I supposed to know that saying zat ze tronsfer from Manchester to 'eathrow was so cheap and was a good deal for Fulham who 'ad paid for the flight could be so misinterpreted."
Saha said in a statement that he deeply regretted his comments and wanted to reaffirm his commitment to Fulham and the Chechen Rebels who have recently negotiated a return to their homeland at valuable riverside Craven Cottage despite protests from local residents and estate agents.
"I 'ave been judged harshly, just like zat Kilroy Zilk guy." claimed Saha
Silky Skills
Kilroy himself spoke this weekend in support of Saha. "I know just how the snail eating frog feels." said the former Labour MP whose popular, populist morning TV chat show "Ignorant Fuckwits Argue The Toss" has been suspended by the BBC after his controversial article in which he accused Arabs as being "suicide bombers, limb amputators, women repressors".
"I deeply regret what I wrote and can only stress that I am no racist " Said the narrow minded, shallow, inept, stupid, ignorance promoting, exploitative c**t,"If I thought those towel headed nig nogs would have caused such a fuss I'd never have bothered."

Twitter:
Tweet this story
|
Follow the Onion Bag
|
Follow Duffman
Copyright © 2003 - 2023 The Onion Bag